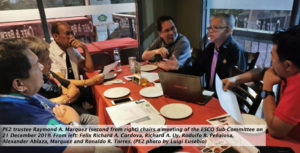 MAKATI CITY, 22 April 2020 – The Philippine Energy Efficiency Alliance (PE2) ESCO Sub-Committee of the Policy Committee has commenced the review of the draft DOE Department Circular for the Guidelines, Rules and Procedures in the Administration, Classification and Certification of Energy Service Companies (ESCOs), which were shared with PE2 earlier today by the DOE Energy Utilization Management Bureau (EUMB). In his capacity as PE2 Policy Committee chair, PE2 president Alexander Ablaza requested ESCO Sub-Committee head and Trustee Raymond A. Marquez, and ESCO Sub-committee members Jose O. de Jesus, Ronaldo R. Torres and Richard A. Uy to initiate the review of the draft ESCO certification guidelines and submit comments for the PE2 Policy Committee by Monday, 27 April 2020.
Once signed by DOE Secretary Alfonso G. Cusi, these new guidelines will supersede the ESCO accreditation framework instituted under DOE Department Circular DC2008-09-0004 issued on 24 September 2008. The proposed guidelines were drafted partially based on the findings and recommendations of the ESCO Certification Workshop that Carbon Trust held on 4 February 2020 on behalf of the UK Prosperity Fund's ASEAN Low Carbon Emission Programme, and in partnership with PE2.
Among the more notable features of the latest draft of the guidelines are the incorporation of two (2) ESCO classifications, namely, Registered ESCO and Certified ESCO, and that the latter will require performance or results-based project savings experience, backed by customer validations. The validity of the Certificate of Registered ESCO will be two (2) years, while the validity of the Certificate of Certified ESCO will be three (3) years. Application fees shall be P 5,000 for Registered ESCOs, and P 25,000 for Certified ESCOs.
A proposed transitory clause recognizes the validity of the previous Certificate of ESCO Accreditation until its originally indicated expiration date, on the condition that the ESCOs comply with the new reportorial and other obligations set in Section 8 of the new guidelines.
On 21 December 2019, the ESCO Sub-committee prepared for the ESCO Certification Workshop by reviewing research findings on ESCO accreditation policy frameworks in other markets. The review included accreditation guidelines enforced in country markets which include India, Japan, Korea, Malaysia, Singapore and the United States.
Comments from other PE2 Policy Committee members and the PE2 general membership can be received by the PE2 Secretariat on or before 12:00 noon of Monday, 27 April 2020. This would allow both the ESCO Sub-committee and the Policy Committee to consolidate the comments and prepare the industry position statement on behalf of the Alliance.